The property market was top of the conversation tab a recent meeting between Partners and staff at Morris, Marshall and Poole with Norman Lloyd and Montgomeryshire MP, Craig Williams.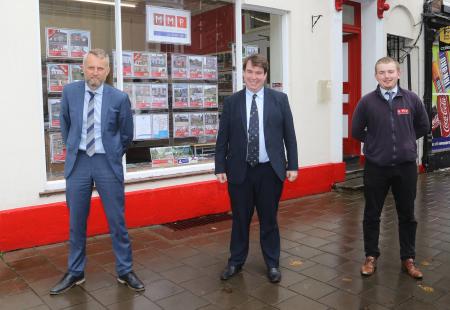 Mr Williams met the MMP/NL team at their Llanidloes office. He was on a fact-riding tour of local businesses.
"It was good to meet Mr Williams to discuss the property and lettings market in the area and how coronavirus regulations and impacted on our business," said Andrew Turner, a Partner at MMP/NL.
Unprecedented sales in the local housing market
"The current reduction in Land Transaction Tax and Stamp Duty is seeing unprecedented sales in the housing market, but we must also look ahead to 2021 and how the regional market will be affected by the ongoing coronavirus situation."
Mr Williams said: "The housing market has been very busy as well as the rental market. The sector has faced many challenges with lockdown and house sale rules but I know they're working very hard at the moment. Fantastic local business."