Estate agent Michael Williams could not believe his eyes when he went to value a Mid Wales seaside home…. as it comes with a 900ft model railway line complete with 10 engines and up to 50 assorted rolling stock in the garden.
Model railway enthusiast Cyril Aspley and his wife Mary are selling up and downsizing due to ill health after living at their three-bedroom bungalow at Bishton Walk, Tywyn, south Gwynedd for the past seven years.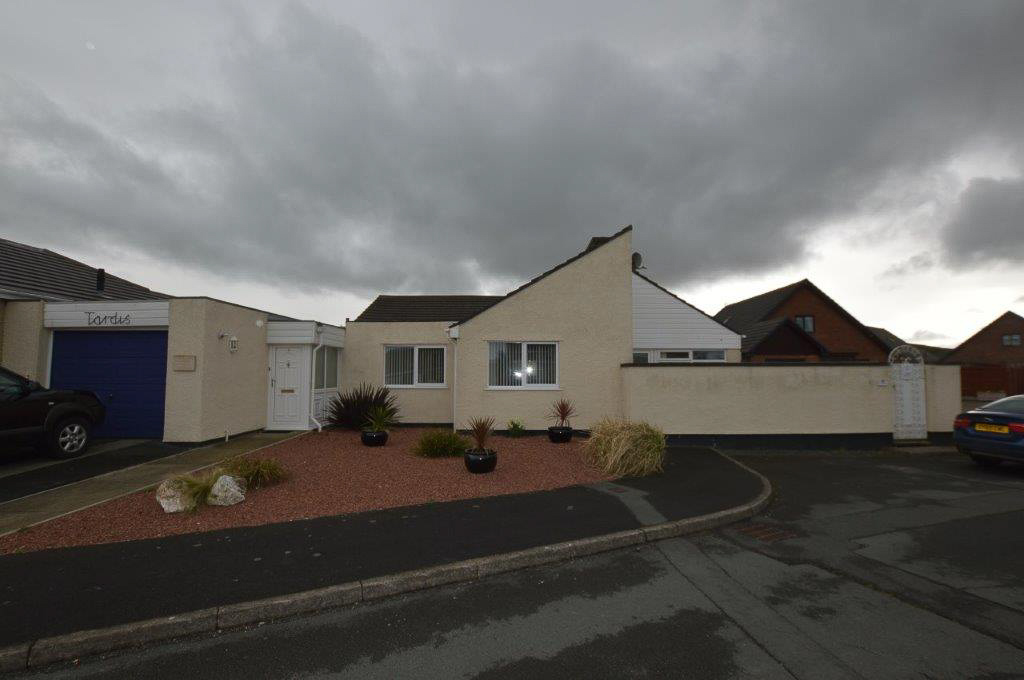 Despite Cyril's love for model railways, they are selling their home through estate agents Morris, Marshall and Poole with Norman Lloyd complete with the G gauge 45mm railway and a workshop.
The property is just 250 yards from the famous Talyllyn narrow gauge railway.
"When we moved to Tywyn I was introduced to a model railway and it got me hooked," said Cyril. "I used to fly model aircraft, but as my wife said, it was costing too much if you crashed a model aeroplane compared to a railway engine."
Cyril has built up the railway which has four loops on the 900ft track and is capable of running four trains at once with 32 sets of points.
"I had to build a bridge to get the line from one side of the garden to the other. It also has a waterfall and a suspension bridge."
The property sale includes between eight to 10 battery operated engines and between 40 and 50 rolling stock which are housed in a workshop at the property from there a hatch in the door allows the trains to travel into the garden.
Michael Williams of estate agents and chartered surveyors, Morris, Marshall and Poole with Norman Lloyd, said: "It's an ideal property for someone who might have a keen interest in the famous and nearby Talyllyn Railway or just someone with an interest in model railways.
"I hadn't seen anything like this in 30 years of working as an estate agent. The bungalow itself is modern and spacious, but when I stepped into the immaculately kept garden at the rear I wasn't expecting to find a model railway. The couple have decided to leave the working railway in the garden and believe it will be of interest to someone who is already a keen modeller."
Situated in the coastal town of Tywyn, close to Aberdyfi and the Mid and North Wales coast and countryside, the property is also just a few miles from the Talyllyn narrow gauge railway which carries thousands of tourists and visitors each year close to the famous Talyllyn lake.
The couple used to open their home to visitors to see the model railway as part of charity fundraising days.
"Aside from the model railway, the bungalow is also modern and spacious, providing three bedrooms, a conservatory, garage and workshop and gardens in a lovely, quiet cul-de-sac," added Mr Williams.
"It's in easy reach of the promenade and town centre, making it ideal for those who also want to enjoy the coastal life. And it's also on the edge of the Snowdonia National Park and the amazing countryside that forms part of this area of North and Mid Wales."
"It might well be that the new owner isn't a model railway enthusiast, but with the track, engine and carriages they could well find a liking for the hobby."
The property is on the market for £220,000. The railway and associated items can also be sold separately.
Details of the property can be found at www.morrismarshall.co.uk or by contacting the MMP/NL office at Tywyn on 01654 710388. Viewings are strictly by appointment through MMP/NL.