Two years ago, two of the leading estate agents and auctioneers in Mid Wales and Shropshire merged to form Morris, Marshall and Poole with Norman Lloyd.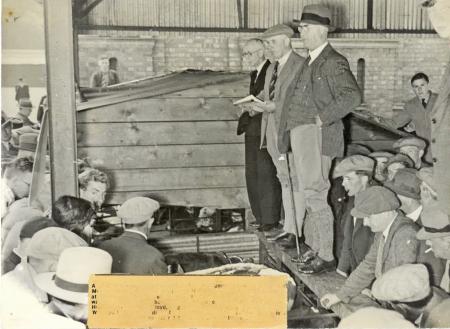 But our association goes back much further than that, as this photograph unearthed at one of our offices. Two key members of both businesses are pictured at a livestock sale in aid of the Red Cross held at Welshpool in the 1940s.
The sale had been organised by the Montgomeryshire branch of the National Farmers Union in aid of the Red Cross and it was Morris, Marshall and Poole and Norman Lloyd who understood proceedings.
Pictured at the sale is the then Mayor of Welshpool, Cllr F.W. Hughes, with Mr Norman Lloyd and Mr Stanley Morris, who was the son of the founder of MMP, Mr E.H. Morris.
Can you see any old farming family members in the photo?
Today, MMP incorporating Norman Lloyd operates Welshpool Livestock Sales at Buttington Cross, one of the UK's and Europe's largest livestock marts.