The past week has seen several changes to the Stamp Duty Land Tax (SDLT) in England and there will be upcoming changes to Land Transaction Tax (LTT) in Wales.
These will affect home-sellers in Mid Wales differently to those in Shropshire and throughout England.
But what does it all mean?
The team at Morris, Marshall and Poole with Norman Lloyd are here to help, along with colleagues at the Guild of Property Professionals.
So, what's happened?
Wales – Land Transaction Tax (Mid Wales - Powys, Ceredigion, Gwynedd)
Up until 30 June 2021, LTT is payable when you purchase or lease a property above the threshold of £250,000. Therefore, currently, no tax is payable on the first £250,000 of a property. LTT is 5% on properties up to £400,000, 7.5% up to £750,000, 10% up to £1,500,000 with any amount thereafter taxed at 12%.
As of 1 July 2021, the LTT paid on a property will revert back to the residential tax rates prior to the temporary changes implemented in July 2020.
When you buy a residential property (freehold or leasehold) you will be required to pay 3.5% LTT on properties between the value of £180,001 and £250,000, 5% on properties between £250,001 and £400,000, 7.5% on properties between £400,001 and £750,000, 10% on those between £750,001 and £1,500,000, with any amount thereafter taxed at 12%. However, if you purchase a property for up to and including £180,000, no LTT is to be paid.
The property market in Mid Wales has seen significant growth over the past year. This has been down to the LTT holiday and also people looking for new homes, larger in many cases. This is down to the need for more work-life space due to homeworking or to have larger gardens or access to recreational and countryside areas.

Stamp Duty extension – (Shropshire and England)
The Stamp Duty holiday in England will be extended by three months.
In the 2021 budget, Chancellor Rishi Sunak confirmed that buyers hoping to make the most of the savings of the higher £500,000 nil-rate band will now have until the end of June to complete sales in England and Northern Ireland. From the end of June until the end of September 2021, the nil-rate band will reduce from £500,000 to £250,000.
This comes as a huge relief to homebuyers who were hoping to take advantage of the holiday, yet with the initial deadline looming, were not so optimistic about the transaction completing in time.
The holiday was intended as a stimulus for the property market, and many buyers were encouraged to enter the market as a result. Many homeowners escalated their plans to move in order to make the deadline and benefit from the tax relief.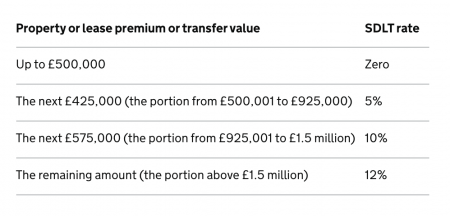 SDLT explained
The initial threshold is where SDLT starts to apply. If you purchase a property for under £500,000 before the June deadline, there is no SDLT to pay. On purchases over the £500,000 threshold, buyers will pay a 5% SDLT on the portion from £500,001 to £925,000, 10% on the portion from £925,001 to £1.5 million, and 12% on any portion over £1.5 million. 
On property purchases from 1 July to 30 September 2021, the SDLT threshold on residential properties will be £250,000. From 1 October, and the SDLT threshold will be £125,000 for residential properties.


First-time buyers
From 1 July 2021, if you, or anyone else you're buying with, are first-time buyers, or if the purchase price is £500,000 or less, you will get a relief that means you'll pay less or no tax. You'll also be eligible for this discount if you bought your first home before 8 July 2020.